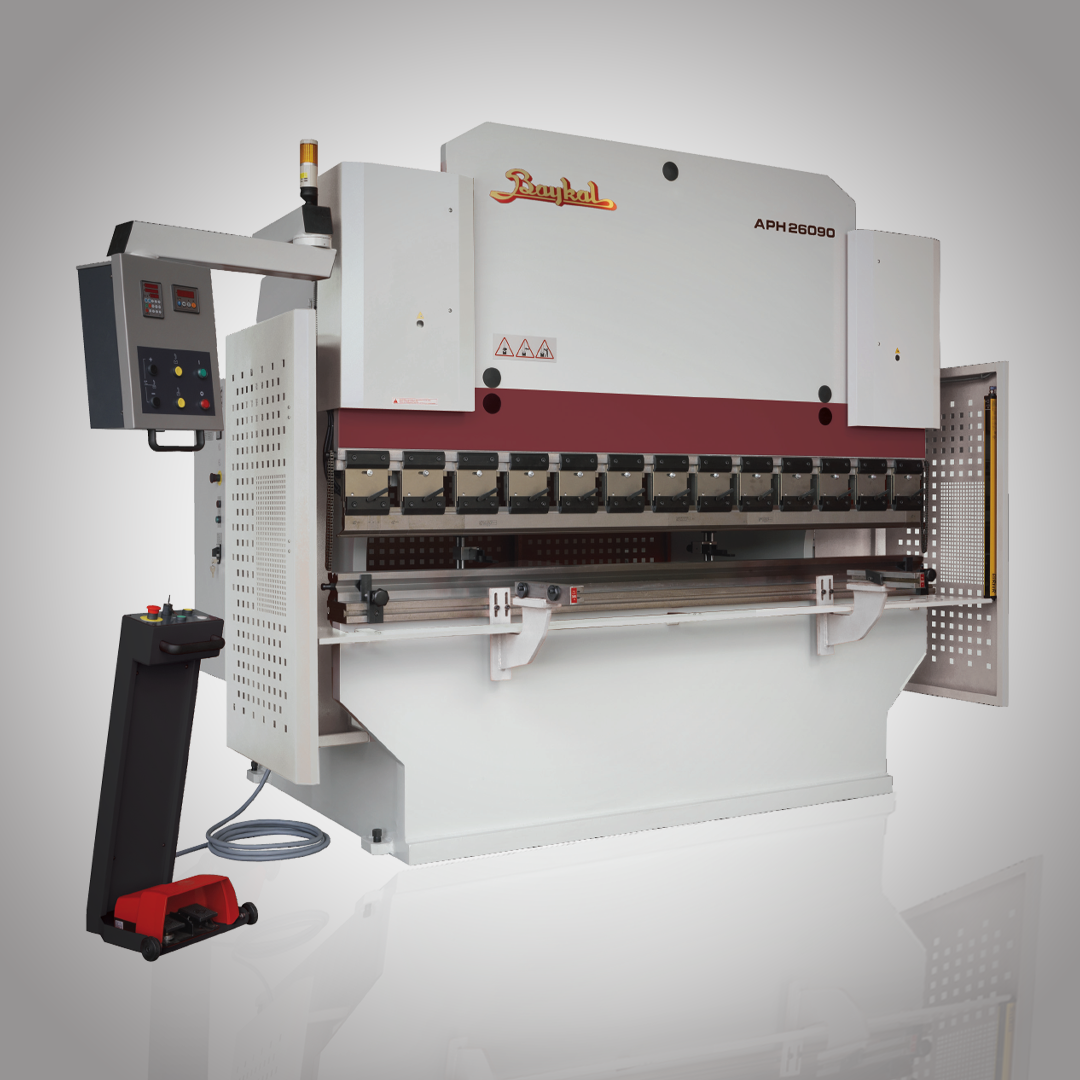 Producent maszyn do obróbki metalu BAYKAL
Miło nam poinformować, że CHM Polska rozpoczęła współpracę z wiodącym producentem laserów światłowodowych, laserów gazowych CO2, pras krawędziowych oraz gilotyn hydraulicznych – z firmą Baykal. W naszej ofercie znajdują się wycinarki laserowe i plazmowe tej renomowanej marki.
Baykal to turecka firma, znana z prowadzenia na szeroką skalę prac badawczo-rozwojowych oraz inwestowania w nowoczesną technologię. Dzięki temu maszyny tego producenta są znane i cenione na całym świecie – w krajach Europy, Ameryki Północnej i Południowej, Azji oraz Afryki. Od teraz dostępne są także u nas!
Wycinarki laserowe Baykal
Nowoczesne wycinarki laserowe Baykal – modele BLS NEO, BLE PRO oraz BLE – dzięki zastosowaniu technologii lasera światłowodowego firmy IPG, umożliwiającego dokładne cięcie z dużą prędkością, oraz automatycznego stołu wymiennego, są gwarancją maksymalnej przepustowości produkcji. Maszyny te oparte są na systemie CNC Beckhoff, wykorzystują serwonapędy Beckhoff i zębatki Wittenstein.
Zastosowanie przy tym bezluzowych prowadnic liniowych tworzy niezwykle wydajny system cięcia laserowego. Dzięki wykorzystaniu najnowocześniejszej technologii – źródła diodowego YTTERBIUM (Iterb Yb) oraz światłowodu FIBER – wycinarki laserowe Baykal pozwalają na cięcie blachy z maksymalną prędkością, niedostępną w żadnym innym typie lasera, jednocześnie charakteryzują się niskim zużyciem energii. Proces produkcji jest zautomatyzowany i bezpieczny dla operatora.
Szerokie zastosowanie wycinarek laserowych Baykal w produkcji gwarantują innowacyjne rozwiązania, wśród których warto wymienić:
cięcie metodą Fly-Cut – bez przebicia i drogi wejścia, wyłączenie wiązki lasera na czas przejazdu pomiędzy elementami, umożliwia bardzo szybkie cięcie elementów okrągłych i równobocznych,
cięcie metodą No Pierce (bez przebijania) – zapewnia najwyższą jakość elementu ciętego w jak najkrótszym czasie,
cięcie No Lead In (bez drogi wejścia) – głowica rozpoczyna cięcie nie poza obrysem elementu, ale w jego linii, co sprzyja usprawnieniu cięcia na konturze,
zapis parametrów technicznych cięcia w aktywnym kodzie G – umożliwia najbardziej efektywny przepływ informacji ze sterownika CNC do urządzenia,
połączenie typu EtherCAT – gwarantuje szybki przepływ sygnałów sterujących.
Standardowo wycinarki laserowe Baykal przystosowane są do cięcia arkuszy o wymiarach:
1500×3000 mm,
2000×4000 mm,
2000×6000 mm.
Możliwe jest również zamówienie maszyn ponadgabarytowych.
Wycinarki plazmowe Baykal
Wypalarki (wycinarki) plazmowe wykorzystywane są do kształtowego cięcia blachy z użyciem jednego lub więcej palników plazmowych bądź tlenowych. Tym, co wyróżnia wycinarki plazmowe Baykal, jest połączenie stalowego układu jezdnego osłoniętego ceownikiem hutniczym z portalem żebrowanym wykonanym ze stopów aluminium, który wykazuje dużą wytrzymałość przy maksymalnej lekkości. Dzięki temu maszyna gwarantuje całkowitą sztywność podczas całego procesu wycinania, duże przyspieszenie oraz najwyższą jakość wycinanych elementów.
W wycinarkach zastosowano nowoczesne agregaty plazmowe HyperTherm, sterowanie CNC oparte na systemie Windows oraz oprogramowanie Lantek Cut Expert. Stół tnący odseparowany jest od układu jezdnego maszyny, a głowica tnąca automatycznie wykrywa wysokość. Wycinarki plazmowe Baykal zapewniają szybkość pozycjonowania 30 mt/min z dokładnością pozycjonowania ± 0,01. Marka zapewnia wieloletni okres eksploatacji.
Baykal to producent, któremu warto zaufać. Maszyny tej marki wykorzystywane są na cały świecie – aż 80% produktów firmy Baykal eksportowana jest poza granice kraju.
Zapraszamy do zapoznania się z naszymi innymi artykułami:
Kalkulacja dobór siły nacisku prasy krawędziowej w zależności od technologii gięcia.
Prasy krawędziowe CNC BAYKAL serii APHS oraz APHE
Problem z linią gięcia na prasie krawędziowej. Ustawianie linii gięcia na prasie
Jakie wyposażenie powinna mieć prasa krawędziowa?